**4 ROCK-stars**
This is the story of Jake and Aubrey. Jake is the front man for the rockband Battlescars. Aubrey is Jake's flight attendant and from there, the fireworks go off. They take their time to get to know each other and the sexual tension was driving me crazy. Aubrey has a past and is afraid to let anyone in and Jake also has a past and together they find something they didn't expect.....LOVE. No cliffhanger and a HEA, couldn't get any better than that! Oh and I can't forget to mention Granny Jean.....I'm sure we all have one of these in our family..LOL
"Nice to meet you Mrs. Thompson." Jake says
"Don't give me that Mrs. Thompson shit. Call me Granny Jean, or at least Jean. Damn Aubs he is MIGHTY FINE."
"What are you fuckers looking at? Ain't you ever seen a rock star before?" says Granny Jean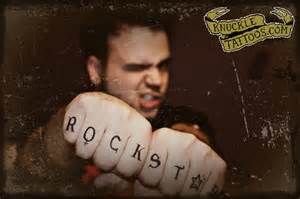 "Why are you fighting the inevitable? I'm not that awful, I promise. I don't bite, unless you're in to that kind of thing, then I'd gladly make an exception."
Jake Parker, the uber-sexy lead singer of the band Battlescars. He was tall, handsome, and covered in tattoos. He also had a reputation, one that i wasn't interested in knowing.
JAKE
"I like you, Aubrey. I can tell by your sarcastic undertones, rude comments and sheer lack of common decency that we're going to be friends in no time. I can just tell."
"I'm Jake and I'm not the womanizing asshole that the media portrays me as."
"I'm Aubrey and i'm opinionated and downright uncensored."

"You're a ROCK GOD that likes to make fools out of girls like me. No thanks."
Aubrey Thompson has blonde hair with hot pink highlights, a couple of piercings and a bunch of tattoos. I also have a mouth that would make a sailor proud. However, I am fiercely loyal and compassionate, just don't cross me.
AUBREY

"It's always darkest before dawn."

"I'm ready to fall if you're the one I fall into."
"I'm scared. I want to try and let you in, but the last time i let someone in it ended very badly. For some reason, you can touch me and I don't shy away. That has never happened with anyone that isn't my family, or someone I've known my whole life."
"The key to finding lasting love is to find someone who loves you, BATTLESCARS and all."